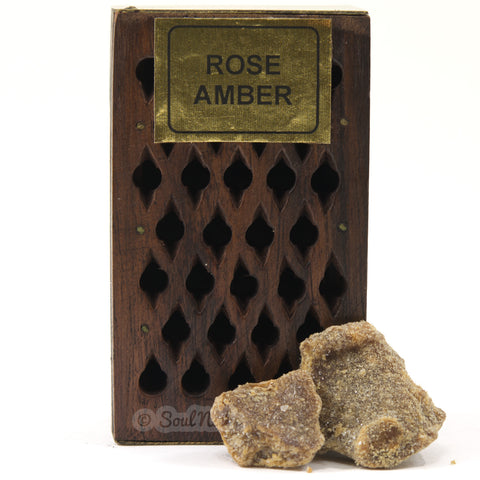 Rose Amber Resin - Solid Amber Perfume Incense Rosewood Box
5 Grams
Packaged in a perforated wood box.
Amber Resin is delightfully aromatic, intoxicating the senses with it's wonderfully rich scent. Amber resin can be either used as potpourri, heated in an oil warmer or burned on charcoal.
Aroma: A warm amber, slightly sweet with hints of floral rose.
Esoteric Uses: Creativity, success, fortune, happiness, meditation, healing, purification, luck, love, emotional and spiritual balancing,  aphrodisiac.
Form: Semi-solid resinous cubes, may include powder or granules
Origin: India
Other names: India Amber, Himalayan Amber, Omber, Ambergris (pseudo)
Packaged: in a clear resealable plastic bag
Unit size: assorted, you choose
Select your desired amount in grams. For reference: the size of 30 grams of Amber is a square 1.25 in x 1.25 in x .75 in. Sizes will vary by weight.
-->
---
We Also Recommend
---