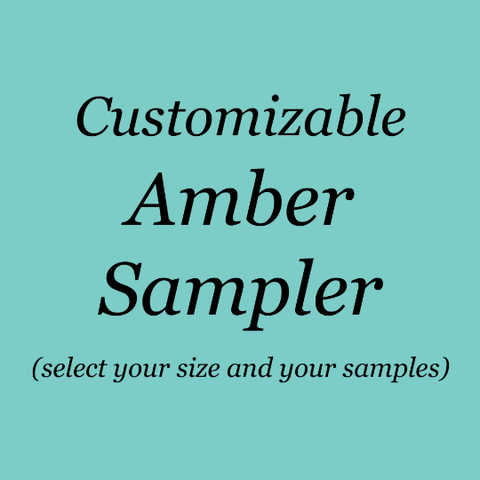 Customizable Amber Sampler
CUSTOMIZABLE AMBER SAMPLER -
Approx. 2 grams each, packaged in plastic bags.

1. Select your "sampler size" from the options above.
2. Leave us a message "at checkout" listing the ambers you'd like to try, or send us a message with a list of your samples.

Choose from the following amber samples,
according to your sampler size:

PREMIUM INDIAN AMBERS -
Traditional Indian ambers. Aromas are rich, sweet and earthy.
- NEW! Premium Daydream Amber - similar in fragrance style to the dark and golden amber, rich, exotic, with bright notes and tropical undertones. Texture is more solid and less creamy.
- NEW! Similar in fragrance style to the dark and golden amber, rich and exotic notes with earthy undertones. Texture is more solid and less creamy.
- Premium Dark Amber - richest, sweetest amber with a soft-creamy texture.
- Premium Golden Amber - slightly less rich/sweet, a little more earthy, texture is more solid (less soft/creamy).
- Premium Honey Amber - our mildest amber, texture is more dry.
- Premium Celestial Amber - similar to dark amber but with a Bay Rhum spiced aroma, with a soft slightly-creamy texture.

EXOTIC ESSENCE AMBERS -
Aromas are light and bright.
Texture is solid, delicate and sugary.
- Jasmine Amber
- Lavender Amber
- Patchouli Amber
- Rose Amber
- Tube Rose Amber
- Plain Amber
- Vetivert Amber

DARK SCENTED AMBERS -
Aromas are rich, deep, exotic, complex, perfumy.
Texture is solid and slightly creamy.
- Dark Lavender Amber
- Dark Rose Amber
- Egyptian Amber - exotic and masculine
- Moon Amber - warm and floral
- Musk Amber - warm, earthy, woodsy, powdery
- Temple Amber - warm and earthy

Each sample is approximately 2 grams and will consist of a chunk, small pieces or granules, depending on the amber.
Sample is enough to sample multiple times.
Once you decide on the amber(s) you like, please visit our Etsy store to purchase your desired amber individually.
We're sorry, amber samplers made-to-order just for you and are non-refundable, non-returnable, non-exchangeable. All sales final. We hope you understand.
*Some individuals may be sensitive to amber oils or its ingredients. Discontinue use if irritation occurs.
-->
---
We Also Recommend
---