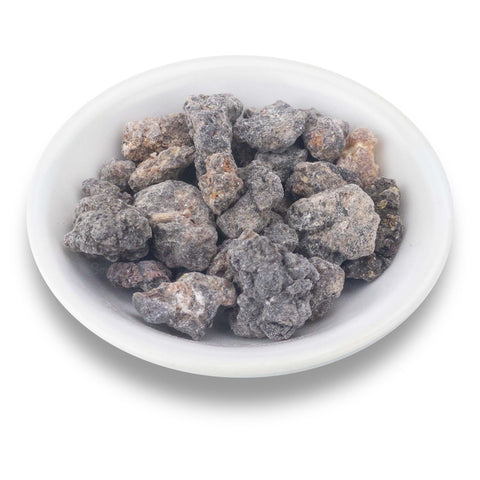 Frankincense Resin Incense - Rare Black (Boswellia Neglecta)
Rare Black Frankincense
Botanical Name: Boswellia neglecta
Origin: Ogaden region in Ethiopia
For use as incense.
Burn resin over charcoal tablets in a proper heat resistant charcoal incense burner.
Purification, protection, spiritual growth and knowledge, mood lifter, meditation.
Black Olibanum is a mixture of sizes, lumps and tears. The color of the gum is black with tiny scattered surfaces of dark orange.
It is ruled astrologically by the Sun like all Frankincense and has a strong feeling with the heart and chest, physically, and emotionally.  Just like the heat of the sun all types of frankincense are warming, give a feeling of awe, and promote great feelings of spirituality and contentment. This is a much sweeter Boswellia than that of Aden, Oman, Somalia and India with a slight minty note. The resin is great for relaxation and to release anxiety and stress as it gives a sense of calming.

Common Uses:
Burning Incense
Naturopathy
Dermatology
Natural Candles
Temples, Mosques and Churches as consecrated incense
Air freshener
Fragrance i.e. perfumes, cologne.
Natural soaps
Aroma Therapy
Cosmetics
Helpful Information:
How to Burn Resin Incense
-->
---
We Also Recommend
---