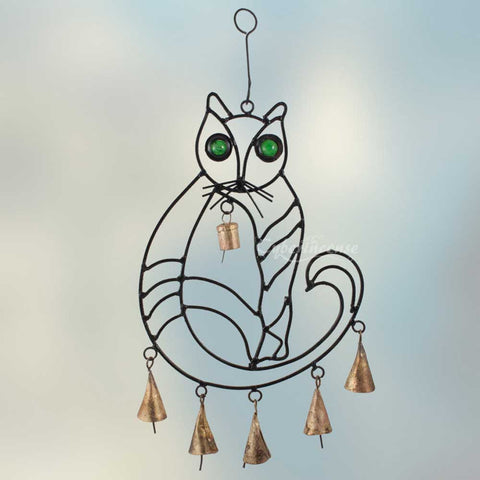 Cat Wind Chime with Rustic Bells & Glass Eyes
Cute Cat Wind Chime w/ Green Glass Eyes & Rustic Bells
Size: 12" tall x 8" wide, hangs 19"
Material: Black iron wind chime with 6 rustic bells.

This lovely well-crafted coated black iron wind chime is shaped like a cat and accented with marble glass eyes.
Perfect for indoor, outdoor or home & garden decoration. It's made of black coated wrought iron metal and rustic tin bells, set with green glass marble eyes. The style and finish is meant to look handmade. Great for hanging outside on your deck or in your garden. This rustic wrought iron wind chime will bring delight all year round.
Today's wind chimes are truly a song of the wind, and are as beautiful as they are harmonious. They are perfect gifts for Mother's Day, and make meaningful anniversary gifts, because of their symbolic worth; compatible, harmonious, and always in tune.
-->
---
We Also Recommend
---