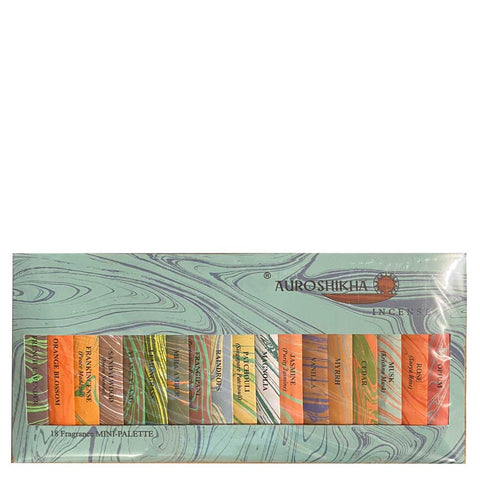 Auroshikha 4" Mini Incense Stick Sampler
18 fragrances (3 sticks per fragrance) 
*colors and fragrances may vary from photo.
Made with nontoxic ingredients 
This exquisite assortment of incense contains Natural Essential Oils, Fragrant Herbs, Flowers, Woods and selected Aromatic Substances. Light the hand rolled mini sticks incense and feel the gentle, soothing presence of nature. Auroshikha has captured the light, delicate fragrances of nature. 18 fragrance sampler pack containing a selection of the most popular scents.
Fragrances included:
Opium
Musk
Rose
Myrrh
Vanilla
Nirvana
Jasmine
Magnolia
Patchouli
Raindrops
Mira Amber
Ylang Ylang
Lemongrass
Frankincense
Sandalwood
Orange Blossom
French Lavender
Oriental Bouquet
About Auroshikha Incense
Auroshikha incense is made of a paste consisting of the powders of dried flower petals, sweet smelling herbs and woods, spices, resins, some charcoal which is an excellent burning material and perfumes based on Natural Essential Oils. 
All these ingredients are mixed with water to form a paste. The paste is then rolled by hand around bamboo sticks and left to dry. After drying the rolled sticks are selected, trimmed and perfumed. In case of "Masala" varieties such as Sandalwood and Frankincense the perfumes and essential oils are mixed in the paste itself and no further perfuming is needed. Greatest care is taken to select the best and purest ingredients to ensure a very high quality of products that are wholly in conformity with IFRA (International Fragrance Association, Geneva, Switzerland)
-->
---
We Also Recommend
---